MILDRED WOODROW
---
Statement
The brilliant colors, the flow of dyes on silk, the almost limitless variety of techniques...all this had kept me painting on silk for over 20 years. And there is always more to learn and experience.
I find inspiration in nature, the Southwest's fantastic landscape, the history which abounds here and just enjoying it all. I have always said I do not have any deep philosophy about my work. I want the clothing to be colorful and fun to wear. Wall art, added more recently, is also to be enjoyed for its subject, techniques and color to reflect the mood of the subject. I often use images from travels or my past.

---
Galleries
Tapestry Gallery, Madrid NM
Gallery 5, Tequesta FL
---
Classes
Classes held in the artist's studio. Can accommodate one or two at a time. Hours and date to be arranged at the convenience of student and teacher. Classes teach the basic gutta and dye painting techniques. Others are discussed and illustrated. Advanced classes easily arranged.
---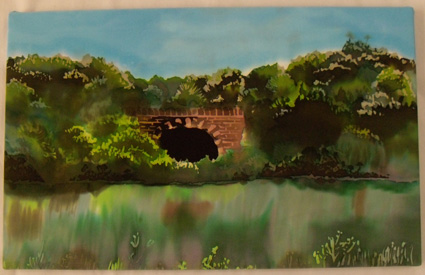 "Mill Creek Park"
Silk Painting, soy wax resist
15 x 24"
$285