KRIS THOENI
---
Statement
As a textile artist I create one of a kind wall art, home décor, and wearable art for body and soul. I also design jewelry using stones, beads and metal from around the world.
For me, creating makes me feel alive, aligned with something bigger than myself. When I create I enter that timeless place where time stands still and all things are possible
As far back as I can remember, I've been intrigued by color, shapes, texture and patterns. I am also fascinated by people, the universe, nature, and the magic of synchronicity.
After a serious car accident left me unable to return to my corporate work (as a systems analyst) I turned inward and reclaimed my intuitive and creative side. This powerful and life changing initiation came in my early 30's.
As I listened to my own inner wisdom and my life began to change. Opportunities were all around me. All I had to do was say 'yes' and take a risk which I did. I began to heal.
For over 20 years I've been offering classes exploring the transformative and healing power of art, creativity, and intuition with individuals, groups, and corporations. This is the work I love.
Joseph Woods, my life partner, and I also paint on silk together. To view our work, my art to wear, or to sponsor a class, workshop, or healing retreat in your area, please visit www.josephandkris.com
You can also view commissioned artwork seven 36" x 36" silk paintings created Joseph and I created together for the neo-natal intensive care unit for El Paso Children's Hospital as well as gourd montages I created for the outpatient receiving and admitting area.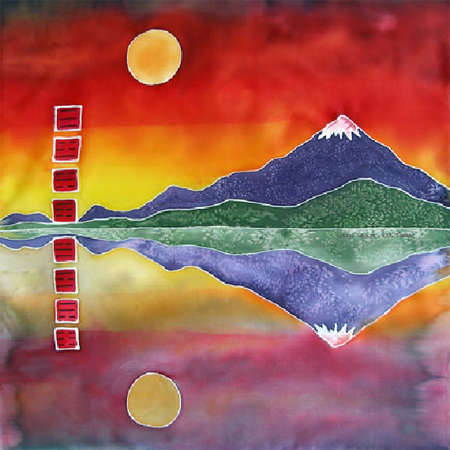 "Reflection"    © 2013 Joseph Woods & Kris Thoeni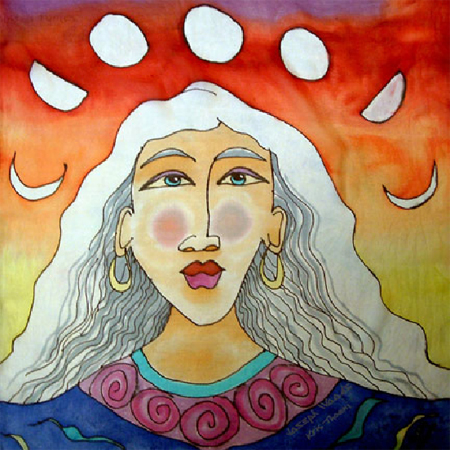 "Moon Woman" © 2005-2013 Joseph Woods & Kris Thoeni
---

Kris painting silk rayon velvet