CHERI RECKERS
---
Statement
Painter, designer and fiber artist, Cheri Reckers' work is recognized by her signature bold patterns and colors.
Cheri received her BFA with honors (Advertising & Fashion Design) from the Columbus College of Art & Design. She has been creating her one of a kind hand dyed wearable art for over 20 years. The artist shares her Jarales, New Mexico home with sculptor Michael Ceschiat and several four-legged friends. When not creating in her old adobe studio, she can probably be found cooking up a delectable dish in the kitchen or out walking a few of her canine companions to gather inspiration for future artworks. Her award winning designs have been exhibited worldwide and featured in such publications as Fiberarts and Niche magazines.

---
Galleries
Belen Art Gallery, Belen NM
The Common Thread, Silver City NM
Handwoven Originals, Santa Fe NM
Marigold Arts, Santa Fe NM
Tome Gallery, Tome NM
Weyrich Gallery, Albuquerque NM
---
Classes
Cheri teaches classes at Ghost Ranch during the JulyFestival of the Arts. Also, Introduction to Silk Painting and other specialty classes held on select Sundays from 12:00-4:00 at Belen Art Gallery in Belen, NM and Tome Gallery in Tome, NM. May also be able to provide classes and demonstrations at your location depending on the facilities and number of participants. Contact Cheri for scheduled dates and information.
---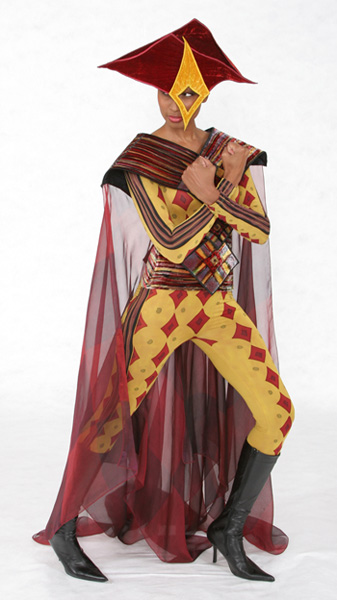 "Diamas" from the 2007 Bernina Fashion Show.
Hand painted silk/lycra knit and silk organza.
Hand painted and quilted silk/rayon velvet.
Photo courtesy of Quilts, Inc.