SUE ORCHANT
---
Statement
Painting has always been a passion for me. Vivid color and pattern are a constant in my work. I like the process of creating visual dynamics by playing one color off of another.

My creative process starts with an idea that tells a story. These stories are filled with symbolism which requires extensive research. I learn new things along the way and find they all connect somehow in the end. I don't know where it will lead to when I start, but somehow I know that it will all make sense when completed. It is a constant learning process about myself as well as the materials and subject matter I choose.
I have been painting on silk since January of 2000. I have studied many processes of painting on silk including gutta serti, shibori, and batik techniques. The intensity of the colors you can achieve and the sinuous, illustrative quality of the resist lines draws me in! Watching the dye flow from the brush across the silk is a wonder!

After attending 3-1/2 years at Syracuse University with a concentration in painting and illustration, I transferred to the University of New Mexico to study painting for an additional two years.

---
Galleries
coming soon
---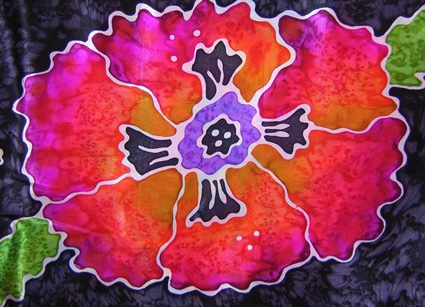 Silk scarf, detail
In addition to creating silk wall art and original design scarves, I have begun taking commissions to paint tallit, or prayer shawl sets for Bar and Bat Mitzvahs. This includes the wonderful process of meeting with a family to create a one-of-a-kind heirloom. On many occasions I illustrate the Torah portion the individual is going to read. I am honored to be a part of this very special life cycle event in a person's life. I also create chuppahs, or wedding canopies. This is a six foot by eight foot canopy a bride and groom stand under to be married.
My most recent work has combined a number of the elements I have worked with over the years into mixed media pieces. Memories from my life have been woven into these pieces that combine silk painting, handmade paper, collage, drawing, found materials, polymer clay, wood, plexi-glass, wire, beads, and other materials.
I have also started to dye silk fibers making them into paper & mixed media assemblages.
My career has exposed me to many facets of the art field including painting, drawing, illustrating, mural painting, sculpture, jewelry making, graphic design, teaching, costume design, and silk painting.