EMILY HOLCOMB
---
Statement
While traveling in New Mexico and Arizona in 1965, I fell in love with the Southwest— its intense multi-hued landscape, variety of distinctive cultures, expanse of the land and sky, and ever-changing and extraordinary light — and knew that I must relocate there. Upon graduation from the University of Georgia in 1970, I taught in Springerville, Arizona. In 1972 I relocated to Albuquerque, New Mexico, where the spell and extraordinary beauty of the state continues to amaze and compel my sensibilities.
My favored art subjects are people and nature. I enjoy employing a multi-media approach when creating my art. Integration of color and texture as well as successful combining of materials and a variety of methods is always a goal in my art process. Combining various art media in a layering effect stimulates, intrigues, and facinates me. The process of starting with a kernel
of an idea and then ending this problem-solving and critical-thinking journey with a beautiful piece of art is a deeply satisfying and fulfilling process.

---
Classes
Emily has taught fiber-related and mixed-media art techniques to adults in numerous adult-learning situations.She welcomes teaching fiber- and mixed-media-related art experiences in her home studio.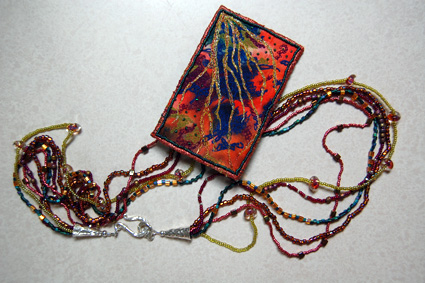 Necklace, c. Emily Holcomb
---