CLAUDIA FLUEGGE
---
Statement
My work on silk is primarily inspired by the beauty of nature. Such as the inside of a flower or the beam of light in between formations of rock. Every second can change this appearance entirely. I attempt to blend nature's most precious moments with my own imagination. Silk is an ideal medium for this interactive play. There are a variety of techniques I like to use. Every touch can change the image significantly whether dye, salt, water, air etc. For mostly, but not always leading to immediate gratification. Just as in real life it is always a choice between gaining control and letting go.

---
Galleries
Tapestry Gallery, Madrid NM
Weems Gallery, Louisiana Plaza, Albuquerque
---
Classes
Claudia teaches basic Silk painting techniques, using Gutta, Soy wax and acid dyes. In the past she has taught school children as well as adults. Most of her classes are held in Albuquerque at the Offcenter Community Arts Project, Palo Duro Senior Center, and The North Valley Senior Citizen Center. Look at their calendar/ catalogue or send Claudia an e-mail to find out where the next class will be held. She also offers classes in her studio by appointment.
---
Upcoming Shows
ASUNM arts & craft fair (on the UNM
Campus) November 28th, 29th, & 30th, 2012
La Cueva craft show ( La Cueva High school) December 1st, 2012

---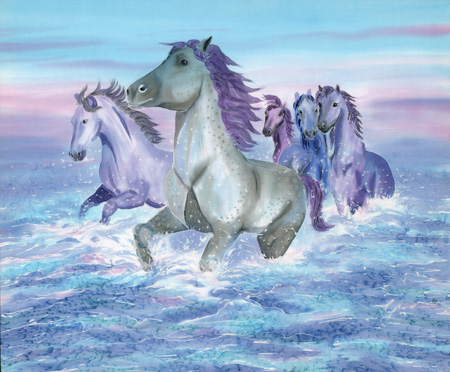 "Horses in Water"
Silk painting on crepe de chine, 18 x 22"
$320
© Claudia Fluegge